Bush pas le bienvenu à Bruxxel [photos]
by timothee red kitten Monday, Feb. 21, 2005 at 11:51 PM
kitty@redkitten.be
Bruxxel -- 21.02.2005 — Bush était venu chercher du soutien en Europe, c 'est une critique féroce que ce criminel de guerre 'classe A' a reçu de la part de 5.000 manifestant/e/s qui ont crié leur dégoût de sa politique de guerre, des droits de l'homme et de l'environnement.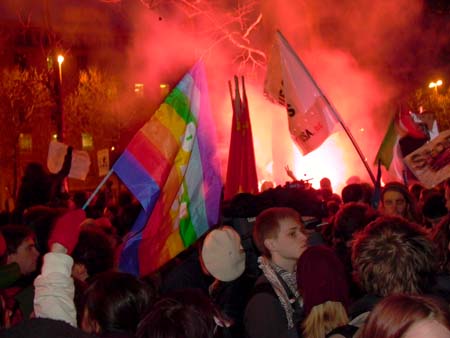 -redlight383.jpg, image/jpeg, 450x338
Malgré le froid, au moins 5.000 manifestant/e/s de toutes origines et de nombreuses organisations se sont rassemblés face à l'ambassade pour exprimer leur opposition à la politique des gouvernements conservateurs et réactionnaires menés par George W. Bush.

Les autorités avaient annocé un dispositif sécuritaire mobilisant au 2.500 policiers pour contrer cette mobilisation populaire. Le résultat était à la hauteur: les manifestant/e/s ont étés bloqués par des centaines de mètres de chevaux de frise garnis de barbelés tranchants, serré/e/s les un/e/s contre les autres pendant des heures.

Ce dispositif n'a pas entamé la combativité des gens présents, souvent très jeunes, et qui sont resté en masse, criants des slogans, sifflants, dansants au son des percussions ou écoutants les déclarations des intervenants perché sur un camion.

[ désolé pour la qualité médiocre des photos … les conditions étants ce qu'lles étaient … : ( ]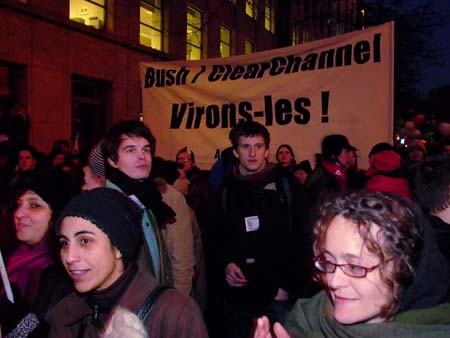 -clearchannel362.jpg, image/jpeg, 450x338
Le monopole des médias visée pour ses liens avec Bush et sa politique conservatrice.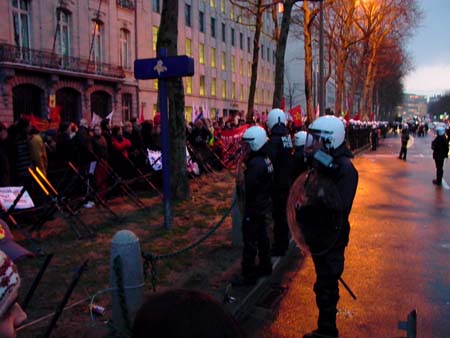 -copslines339.jpg, image/jpeg, 450x338
Etait-ce bien nécessaire ? Peut-être pour bien faire comprendre à la population l'estime du gouvernement belge pour ce criminel de guerre ?
PAS D'AGE POUR LE DIRE
by timothee red kitten Monday, Feb. 21, 2005 at 11:51 PM
kitty@redkitten.be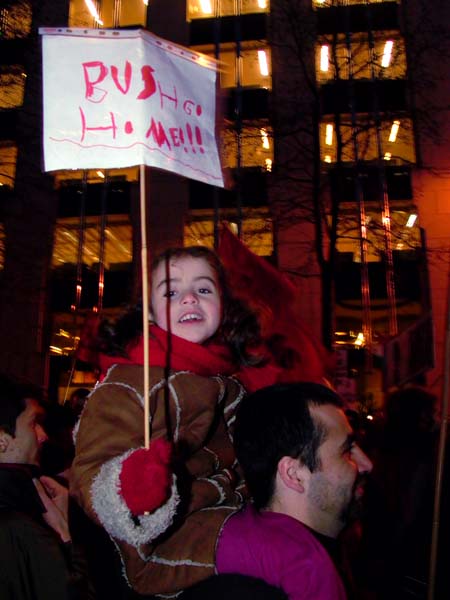 -gohome360.jpg, image/jpeg, 450x600
+++
INQUIETUDE POUR L'IRAN
by timothee red kitten Monday, Feb. 21, 2005 at 11:51 PM
kitty@redkitten.be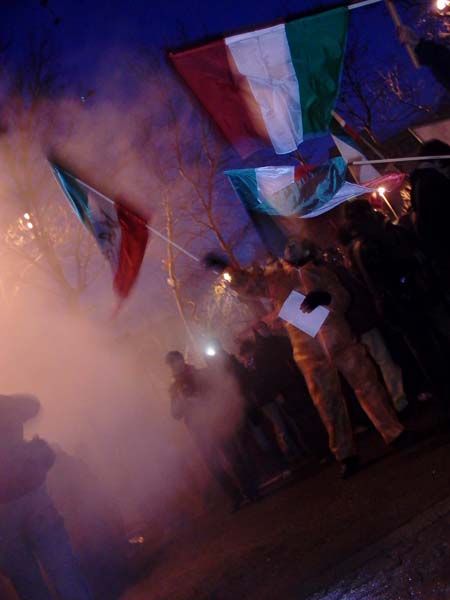 -iranis376.jpgc3nmbl.jpg, image/jpeg, 450x600
Même celle et ceux qui s'opposent au gouvernement Iranniens sont farouchement opposé à une intervention militaire des USA … un coup d'oeil sur la situation en Irak lève tout doute possible sur la raison de cette position …
BUSH, CRIMINEL DE GUERRE
by timothee red kitten Monday, Feb. 21, 2005 at 11:51 PM
kitty@redkitten.be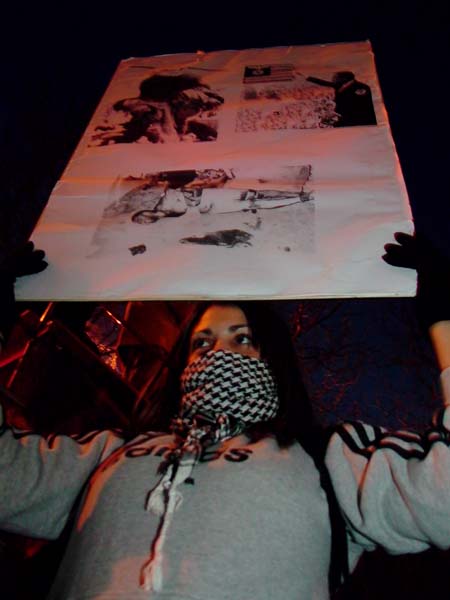 -masked379.jpg, image/jpeg, 450x600
+++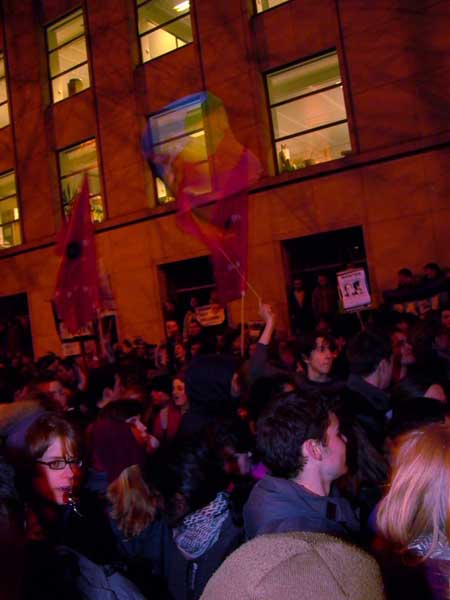 -windows391.jpg5jcavk.jpg, image/jpeg, 450x600
… et combativité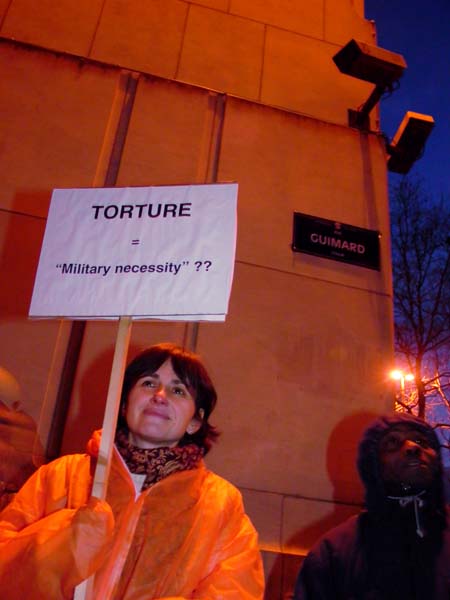 -torture366.jpg, image/jpeg, 450x600
… était-ce bien nécessaire ?
Thank you!
by California resident Wednesday, Feb. 23, 2005 at 2:50 AM
Thank you for being there to say no to the UNELECTED pResident Bush!

He was never elected and the researchers at US universities have proven the election was stolen :

"UC Berkeley Research Team Sounds 'Smoke Alarm' for Florida
http://ucdata.berkeley.edu

Statistical Analysis - the Sole Method for Tracking E-Voting - Shows
Irregularities May Have Awarded 130,000 - 260,000 or More Excess Votes to Bush in Florida

Research Team Calls for Investigation

BERKELEY, Calif., Nov. 18 /PRNewswire/ -- Today the University of
California's Berkeley Quantitative Methods Research Team released a
statistical study - the sole method available to monitor the accuracy of e-
voting - reporting irregularities associated with electronic voting machines
may have awarded 130,000-260,000 or more excess votes to President George W.
Bush in Florida in the 2004 presidential election. The study shows an
unexplained discrepancy between votes for President Bush in counties where
electronic voting machines were used versus counties using traditional voting
methods - what the team says can be deemed a "smoke alarm." Discrepancies this
large or larger rarely arise by chance - the probability is less than 0.1
percent. The research team formally disclosed results of the study at a press
conference today at the UC Berkeley Survey Research Center, where they called
on Florida voting officials to investigate.
www.prnewswire.com/cgi-bin/stories.pl?ACCT=109&STORY=/www/story/11-18-2004/00...
Europe and European people must keep firm against the American (neocons) to bring war, destruction and control of oil. The last hope of this planet (for the next 4 years) is Europe. The Europeans MUST make clear that they oppose the killing of children and the eradication of a different culture and religion. Please visit http://geocities.com/loktha_fr/
MERCI BEAUCOUP!
by Lajo Wednesday, Feb. 23, 2005 at 3:43 AM
C'est une honte que vous des gens devez protester pour nous dans le froid, puisque Bush ne voit jamais notre désapprobation, ni il s'inquiètent. Nous vous remercions de la portion en tant que nos voix de remplacement. Nous apprécions votre appui ! Dieu vous bénissent.
Whos next in your war/freedom map
by RAA Wednesday, Feb. 23, 2005 at 6:40 AM
reem@eng.uob.bh Bahrain
You want Euorope support for the next victim of your freedom and democracy plans, will this what you gets from the real free and democratic people!!
Please DON'T send Bush home
by required Wednesday, Feb. 23, 2005 at 2:58 PM
We don't want that mass murderer back home here, either!

And because he wants to send a manned mission to Mars, please forward him there (although I feel sorry for the poor Martians!).
Arrest him!
by Desertphile Wednesday, Feb. 23, 2005 at 5:04 PM
Please ARREST BUSH2 and put him on trial for war crimes! The USA refuses to, so it remains the task of the civilized world to do so. Bush2 belongs in a prison for the criminally insane.

Thanks guys
by N. Carolina resident Thursday, Feb. 24, 2005 at 4:26 AM
He's fooled most of the people here.
Great to know there is intellegent life elsewhere!!!
required
by usa Thursday, Feb. 24, 2005 at 5:36 AM
thank-you germany for screaming for justice!!!! you have lifted us up in protest against this butcher!!!!please don't blame us, its the gangsters running our country,our hearts are bleeding! thank-you, thank-you, thank-you!!!!!!
from:usa
I'm glad to see that people blame Bush and his regime for his actions and don't blame all Americans.