RESIST: result evening in Antwerpen [photos]
by red kitten Sunday May 18, 2003 at 11:06 PM
redkitten@indymedia.be
The list RESIST had organized in Borgherout [ Antwerepen ] an evening in order to see the results of today's elections. The room was far too small and overcrowded. The resulsts weren't as high as some expected, but rather encourraging and the atmosphere was really enthousiastic.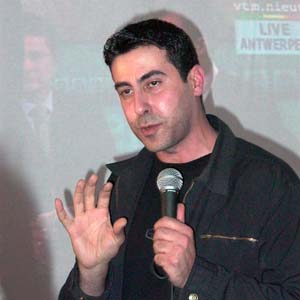 00-dyab.jpg, image/jpeg, 300x300
Dyab Abou Jahjah, head of the list declared that we couldn't really see this as a great victory, but that it was a really positive experience that will go on. The amount of votes in Antwerpen would be enough to get someone elected to the District Council, so there're high hopes than for the next District elections one or more RESISTer/s would enter the District Council.
Considering the first stats of the results Dyab also stressed the point that the all Belgium is going more and more to the right.
NB1: the list RESIST -a coalation between the Arab European League, the Workers Party of Belgium [ communists ] and independent candidates have been created only some months ago ]
NB2: Dyab is the first Arab ever head of a list in Belgium.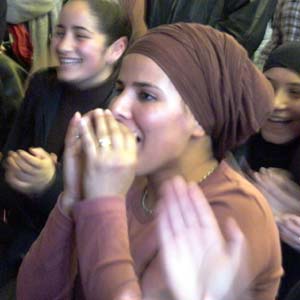 01-atmosphere.jpg, image/jpeg, 300x300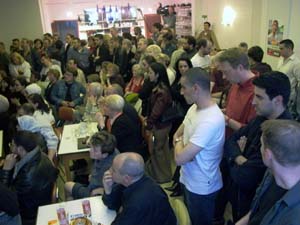 02-zaal.jpg, image/jpeg, 300x225
Geert Van Moorter the "doctor from Bagdad"
by red kitten Sunday May 18, 2003 at 11:06 PM
redkitten@indymedia.be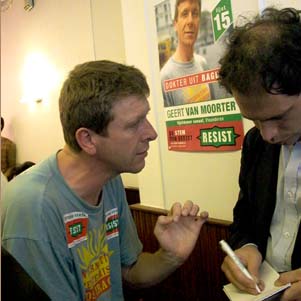 03-geert.jpg, image/jpeg, 301x301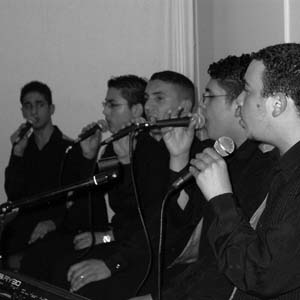 04-band.jpg, image/jpeg, 300x300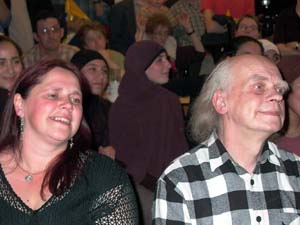 05-tiny-koen.jpg, image/jpeg, 300x225
Tinny Mast [ mother of vanished and murdered children ] and Koen Calliaw [ former Green party member ], two independent candidates.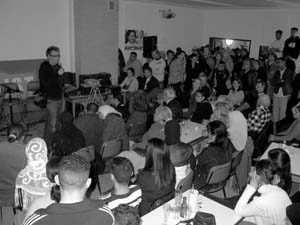 06-han.jpg, image/jpeg, 300x225
Han Soete [ co-founder of Belgium Indymedia ]: « 10 years ago we were demonstrating against the Vlaams Blok [ fascist party ] here in Antwerpen. We were 10,000. Today more people chosed for RESIST. »
Khadija Abbach, AEL and Zohra Othman, PVDA [WPB]
by red kitten Sunday May 18, 2003 at 11:06 PM
redkitten@indymedia.be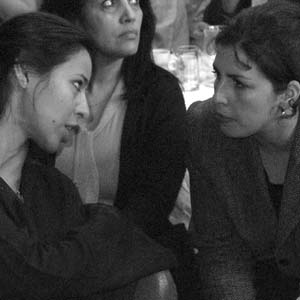 07-khadija-zohra.jpg, image/jpeg, 300x300
2,3 in antwerp
by jan Sunday May 18, 2003 at 11:45 PM
hola!
the result in the city of antwerp: 2.3 %
that's a positive sign!

Cool observer
by Libby Monday May 19, 2003 at 12:18 AM
If an oppressed minority has to accept the oppression in order to stop Vlaams Blok, what is the use of stopping Vlaams Blok?
I don't give a damn
by Edith Monday May 19, 2003 at 12:42 AM
We are delirious. Taken in consideration all the factors that influenced this result, we did a wonderfull job. Dyab is really superb.
Thank you for the information observer. Our analysis is better than yours. I don't give a damn about Agalev. It looks as though they have only one seat left. That will give them the opportunity to develop a strong opposition and opposition we need. I doubt that Fauzaya will be strong enough to deliver that opposition. She is a worker, not an opposer. It does not look good for Agalev. They are going down, we are going up.
ooops
by jer Monday May 19, 2003 at 02:09 AM
RESIST result : 0,9% (not 2,3% as announced in "le soir")
10059 votes
Big loss for PTB
by Counter! Monday May 19, 2003 at 10:40 AM
All I did was giving facts and figures. Why the hell was this comment censured?
The Resist-list (cooperation of PTB/PvdA and AEL) scored 0,27% in the whole of Flanders. This is a major loss as compared to the PTB/PvdA who scored 0,38% in 1999.
In Antwerp Resist scored 2,32%. This is a won compared to the 1,56% of the PTB/PvdA in 1999. These must be the votes of some 'new Belgians' supporting the AEL.
But if you look at the numbers for the whole electoral district of Antwerp Resist remains under 1% and that is also a loss compared to the results of PvdA/PTB in 1999.
RESIST haven't choosed the easiest way, for sure.
But as all the efforts and the energy were focused on Antwerpen, this remains a humble victory.
[ and remeber that Roma haven't been build in one day ... ]
People:
Instead of putting more daggers into Agalev, now may be an historical chance for renewal for Agalev to become a more 'antiglobalist' party. In one day time, the cards have been reshuffled. Instead of spitting on them, perhaps lending a helping hand may be a more stategic option.
Anyway, Edith - I believe that remarks as 'I don't give a damn about Agalev' and 'they are going down, we are going up' will again not bring us any closer to a more just society.
euh?
by Guido Monday May 19, 2003 at 04:32 PM
As far as I understand is Agalev out of the parlement, so maybe they can change in an NGO and protest with "andersglobalisten" against the neo-liberalisme from SP-A.